Statistical thinking skills included in the first intermediate grade math book
Keywords:
statistical thinking, statistical thinking skills, first intermediate grade mathematics book
Abstract
Abstract
The aim of the current research is to identify (statistical thinking skills included in the mathematics textbook for learners in the first intermediate grade for the academic year 2021-2022 AD). The first average in its first and second parts for the academic year (2021-2022 AD), and the idea unit (explicit, implicit) was adopted as a recording unit, and repetitions as a counting unit. In its final form, the list included (26) sub-skills distributed into (4) main skills of statistical thinking. the same after a certain period of time), crossed by others (the researcher with other analysts), and the percentage of agreement using the Holst equation J (Holsti), and statistical methods (frequencies and percentages) were used, and the most important results were that the first intermediate grade mathematics book included all statistical thinking skills, but in varying proportions, and in an unbalanced manner, and recommendations were made, including: Taking into account the balance when including the inclusion of the In the content of the mathematics textbook for the first intermediate grade, taking into account the diversity in the selection of topics and exercises, and suggested conducting descriptive studies to determine the extent to which learners possess statistical thinking skills and for different educational stages, and conducting analytical studies for students' mathematics books according to their preparatory stage mathematics standards.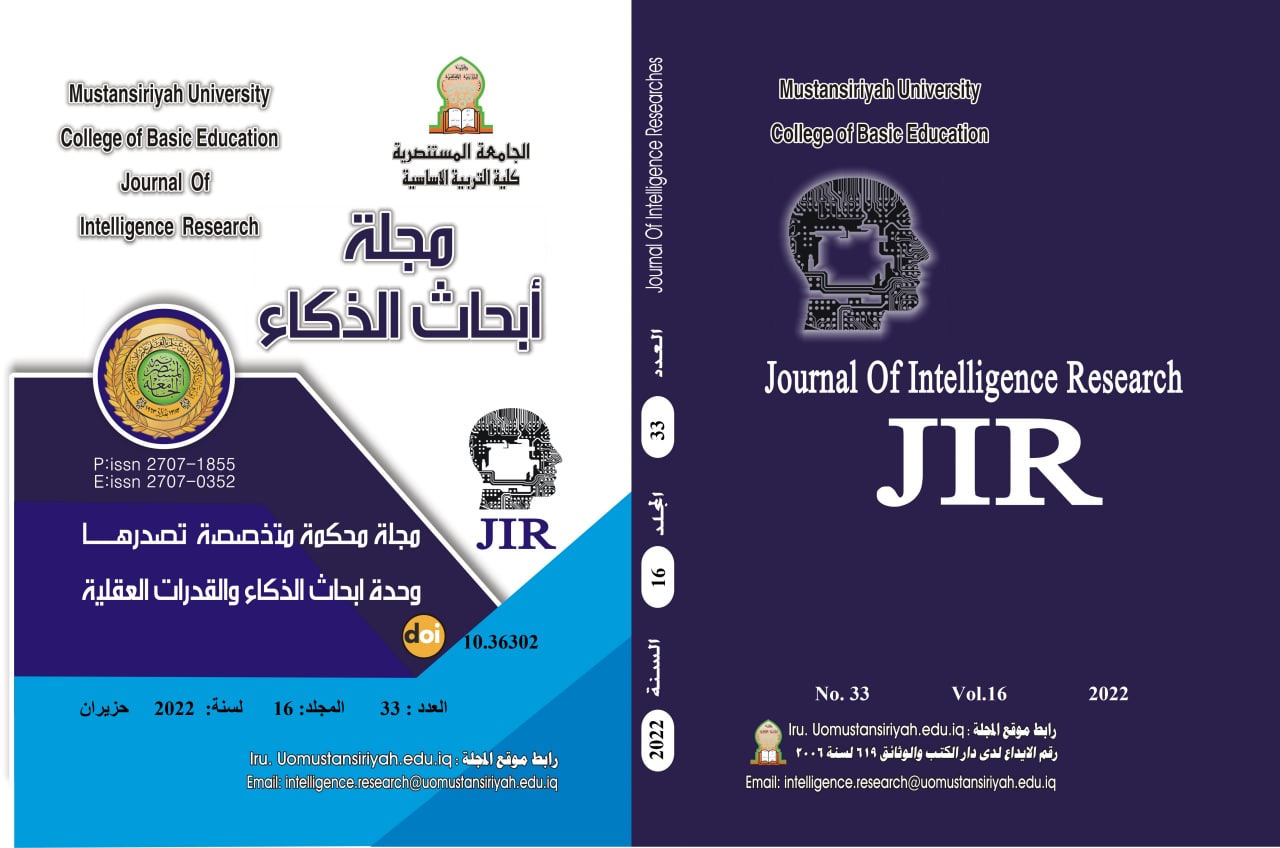 How to Cite
سعد صالح ت. . . . . . . . . . . . . . . . . . . . . . . . . . . . . . . . . . . ., & ناجي عبد الامير . . . . . . . . . . . . . . . . . . . . . . . . . . . . . . . . . أ. ع. . (2022). Statistical thinking skills included in the first intermediate grade math book. مجلة أبحاث الذكاء, 16(33), 605–619. Retrieved from https://iru.uomustansiriyah.edu.iq/index.php/intel/article/view/412